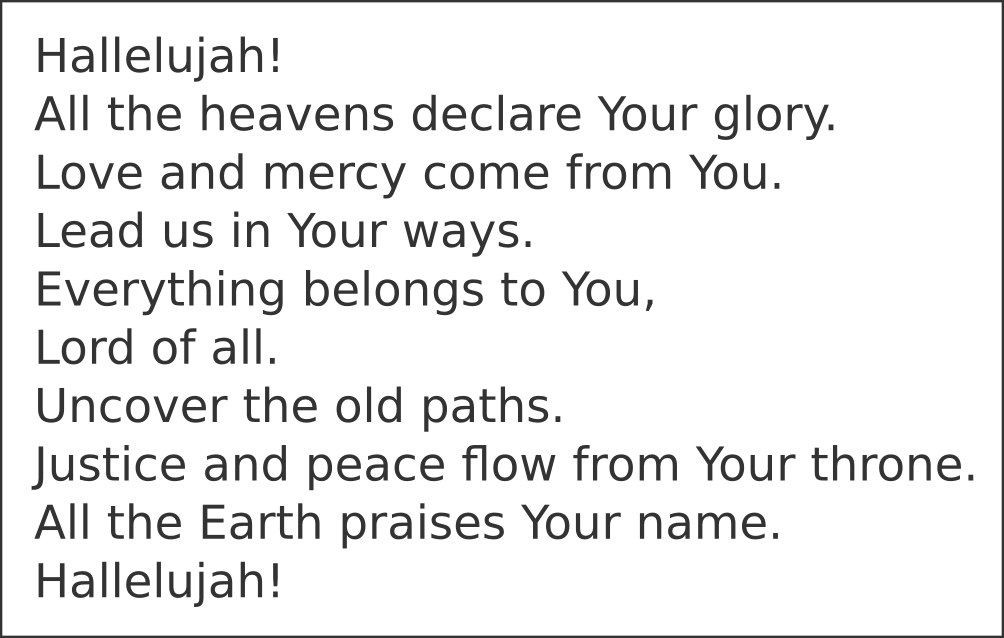 ---
Notes
This chiastic acrostic came out of about twenty minutes of prayerful meditation some months ago. It connects with several scriptures and ideas which relate to my own journey of faith.

You may find it helpful just to meditate on the words yourself, but here are a few notes relating to some of the connections and understandings that I have explored...

Hallelujah! / Hallelujah!
I chose the word Hallelujah as the acrostic word because of the ways that I experience it in worship. I like to unpack Hallelujah as "make hallels to Yah" - that is "make a joyful noise to Yahweh". Then what does the name "Yahweh" mean? Well, for a start it means something like "I AM" or "I am that I am", as God described himself to Moses from the burning bush. Some time later, Moses asks to see the "Glory" of God. (Exodus 33:18). God responds by having all His goodness pass before Moses and pronouncing, proclaiming and explaining His "Name". In so doing He declares His very nature. As we read in Exodus 34:6-7: "Yahweh, Yahweh (the LORD, the LORD), the compassionate and gracious God, slow to anger, abounding in lovingkindness and faithfulness, showing love to the thousands generations, forgiving wickedness, rebellion and sin.". Given that God is just like this, doesn't it make you want to make a joyful noise to Him? Hallelujah!

All the heavens declare Your glory. / All the Earth praises Your name.
Partly inspired by the opening of Psalm 19 ("The heavens declare the glory of God"), these lines have several meanings. One is that God reveals himself in all of creation. Another is that the present tense in the second line looks forward to a time when Jesus Christ will rule and reign, when "every knee will bow and every tongue confess that Jesus Christ is Lord to the glory of God the Father". These lines speak of God's revealing himself (His "glory") and the response of the Earth praising His "name". This can be understood on a personal level too - God has revealed Himself so what is our response? The parallelism of "glory" and "name" echoes the connection mentioned in Exodus 33:18-19, where Moses asks to see Yahweh's "glory" and Yahweh responds by explaining His "name". For the second line, see Psalm 66, especially verses 1-4.

Love and mercy come from You. / Justice and peace flow from Your throne.
Further description of God's nature and declaring that He does not just keep His nature to Himself, but shares it with us. For the second line, see Psalm 45:6-7, and its quotation in Hebrews 1:8-9. The words "Your throne, O God, is forever and ever..." seem to be addressed to the Davidic king in the original context of Psalm 45, but are understood to be speaking of Jesus in Hebrews. In any case the Davidic king (to some extent) and Jesus minister God's reign to people, which means justice, righteousness, peace and joy. See also Psalm 89 for several themes similar to this acrostic.

Lead us in Your ways. / Uncover the old paths.
Many things can be and are said of ways and paths in God's word. "Uncover the old paths." is a reference to Jeremiah 6:16. Jesus described Himself as the Way, the Truth and the Life. The early Christians were called followers of the Way. See also Psalm 84:5 - "How blessed are those who find their strength in you, and long to travel the roads that lead to your temple!".

Everything belongs to You, / Lord of all.
Yahweh is sovereign. Interestingly, these two lines are chiastic in structure themselves, having the form A B C C' B' A', with parallel parts 'Everything' / 'all', 'belongs to' / 'of' and 'You' / 'Lord'. They are also acrostic in that they spell "El", another name for God. At the very centre of the whole chiastic acrostic are the words "You, Lord". These words refer to God, remind us that we are addressing Him and speak of His relationship to us as Lord.
---
Meditation
Though much of this acrostic is about the majesty and glory of God, the comma at the centre reminds me of a seed and Jesus's words recorded in John 12:24: "I tell you the solemn truth, unless a kernel of wheat falls into the ground and dies, it remains by itself alone. But if it dies, it produces much grain.". Jesus faithfully showed the nature of the Father and himself as described in Paul's "mind of Christ" passage in Philippians 2:5-11, being obedient unto death, even death on a cross, then exalted by the Father.
When Philippians 2:9-11 speaks of Jesus being exalted - lifted up - I am also reminded of Jesus's words in John 12:32: "And I, when I am lifted up from the earth, will draw all people to myself.", but as John comments in the following verse: "(Now he said this to indicate clearly what kind of death he was going to die.)". So Jesus, the Son of God, allows himself to be "lifted up" on the cross, giving His life that we all might live. The faithful servant of all is exalted by the Father and given the name that is above every other name.
Remember also Jesus's words to Nicodemus in John 3:14-15: "Just as Moses lifted up the serpent in the wilderness, so must the Son of Man be lifted up, so that everyone who believes in him may have eternal life.". This refers to the incident recorded in Numbers 21:4-9, when the Israelites complained, God sent poisonous snakes among them and God had Moses make a bronze snake that healed the people who looked at it. I find it astonishing that the Israelites made an idol of the Nehushtan - this "thing of bronze" - until Hezekiah destroyed it centuries later (2 Kings 18:4). Perhaps the venomous bite of the snakes is a picture of sin - without some remedy it will kill us. If we see Jesus for who He is and fully recognise His sacrifice for us, then He cleanses us from all sin and rescues us from death. Charles Spurgeon gave a sermon on this theme entitled "The Mysteries of the Brazen Serpent".
---
If you have any questions or comments, please email me as info@polyteuch.com.

George Chauvet - 2014